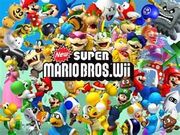 My brother and I didn't realize it when we saw it that it had just come out. We just knew that we wanted to have it. So we got it. We went home and played it for the rest of the afternoon. We played for the next few days and got all the way to the first level in world 8. We quit the game and didn't play for months. (I actually think it was like a year.) Finally, about 5 months ago we got back into it and beat Bowser in a day. (It took us 37 lives)
This game is for the Nintendo Wii console. It is a common multiplayer game. It came with the anniversary edition of the Nintendo Wii. It came out some time in 2010. It is the sequal to New Super Mario Bros. for DS.
I like this game, but only to a certain extent. For some reason.... I would much rather play the original than this one. I think the explanation is that originals are always better in a sense. They may not have the same graphics. They may not have the same soundtrack or anything like that, but they always seem to make you more happy when you play them agian. When I decide on a game I want to play I don't usually pick this one. Although I do have some reasons for playing this game when I do. Multiplaying, graphics, throwback power. The multiplaying in this game is magnificent. It can be compared to Donkey Kong Country Returns. In the multiplayer mode you can easily make it through a level with great speed even if your partner isn't really a good player. (take that brother) Plus, the multiplayer competition just makes a competition even better. I personally love coin battles. My brother and I often play coin battle if we were just bored and we didn't want to play the actual game. It turn into a full blast competition and we spend the day playing it. Now onto graphics. The graphics in this game can also be compared to Donkey Kong Country Returns. They seem so full of energy and color as you go through the brightly lit levels. (With exception from the caves.) It looks like a little kid dumped his crayon box on the world of Mario. Even the character sprites are full of color and seem so alive. Now I bet your wondering what Throwback Power is right. Well I have come up with a scale from one to ten that measures the amount of levels and ideas from old games that these games have. (For example we have the airships from Super Mario Bros. 3.) I like throwback games alot. They often have a little more value to me than other game. On a rating from one to ten....this game get..... 6!!! That's really all I have to say so.... bye!