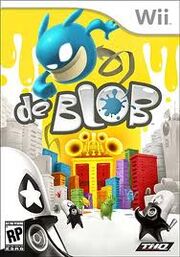 I can remember that I bought de Blob after trading in a bunch of games I didn't like and using the 50 or so dollars I had to buy it. It was a pretty well-researched decision, and I gotta say it wasn't a disappointment at all.
The game follows the adventures of Blob, a denizen of the forests outside Chroma City where a revoltuon known as the Color Underground is making efforts to win back their city from the INKT Corporation, run by a dictator (Comrade Black) who has used his armies to drain all the color out of the city.
Since Blob is able to absorb and distribute colors, the Underground enlists his help in painting the city again, one section at a time.
There were so many things that I loved about this game: first, I gotta say, was the challenge. You actually had a time limit during each level that you had to abide by, and you could increase it every time you released a group of citizens, painted down a certain block, got to a new area, or completed a challenge from one of the members of the revolution. The gameplay itself was pleasantly tricky, because you had to paint as much as possible to get a good store, and you also had to fight your way through the evil Inkies who would try to ink you and make you explode.
Coming from a family of artists, I really loved the task of painting buildings with wild colors and patterns in a video game, because I'm just a huge all-around fan of colors in general and the format they put it in was not only whimsical, but also creative and it made you really want to play through a level, restoring harmony as you went.
Now here's the definite best part about this game: the music. Oh...my...god. The music in this game is fantastic. In fact, for every level you play, you can pick the music to play by, and it is unbelievably good. It uses medleys of saxophones, guitars, trumpets, and smooth percussion that really got you in the artistic mood and made you pumped to just be where you were, at the moment you were there.
The motion controls also worked perfectly; the places where you has to shake responded without a hitch, the swinging down to jump had virtually no problems, and the Sonic-style system of targeting opponents and squishing them was effective and empowering.
This game is a masterpiece. It's an off-the-charts fun, engaging, enjoyable, and all-around feel good game that you'll return to over and over just for the sake of playing. You must absolutely buy it now.
thumb|300px|right|Here's a sample of the music called "Unstoppable."