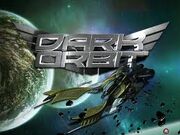 The biggest Space MMO out there, with an i
ncredible 76,000,000 players (And counting!) and a massive fanbase, this is Dark Orbit!
Overall Views:
Overall, Dark Orbit is a fantastic Freemium (Which means that it is free to play but with premium features that can be bought) game which requires no downloads and can be played in your browser! It follows a Space Pilot as he has left Space Academy. 3 factions try to get you flying with their pilots, and these are:
Earth Industries Corporation (EIC)
Venus Resources Unlimited (VRU)
Mars Mining Operations (MMO)
All these companies are fighting for domination of the galaxy and each has control of a certain area. You can join your allies in outfits and take out aliens, or "hunt" down enemy pilots as the war for resources rages across the galaxy!
You start in a pitiful, free ship with barely the items required to shoot down some weak aliens, but the new rewards system in the game gives you a free, stronger but slower "Liberator" starfighter. You can progress up and as you level up, you unlock new maps. You can join Clans with your friends, which will give you military and economic support when you need it most. Very few of the top players have decided to go solo without a Clan; Some even have made their own clans to help teach lower level players to play!
The game, however, suffers from a poor support team and it almost forces you to pay to become really good, which makes it lose some income.
Despite this setback, it is still a great game!
Ratings :D
Replayability: 8/10. The graphics can get boring but it does become very fun when you hunt down the enemy.
Graphics: 6.5/10. The renders, although pretty, leave much to think about as another game, Battlestar Galactica Online, is made from the same company and it has 3D graphics, though requiring to download Unity 3D.
Balance: 3/10. Although some features do benefit all players, including those who play without injecting cash, players who DO put some money in are almost always stronger. You can hit their levels while remaining free but it takes a lot of hard work.
Customisation: 9/10. 10 ships, many lasers, many designs and many other items make this game very customisable.
Fanbase: 10/10. It is a largely friendly fanbase that will answer almost all of your questions in the forums.
Overall: 8/10. A great game that suffers from poor balance and graphics that can be improved, it is still very enojayble and can grip you to your computer!
Get in your cockpit, pilots!